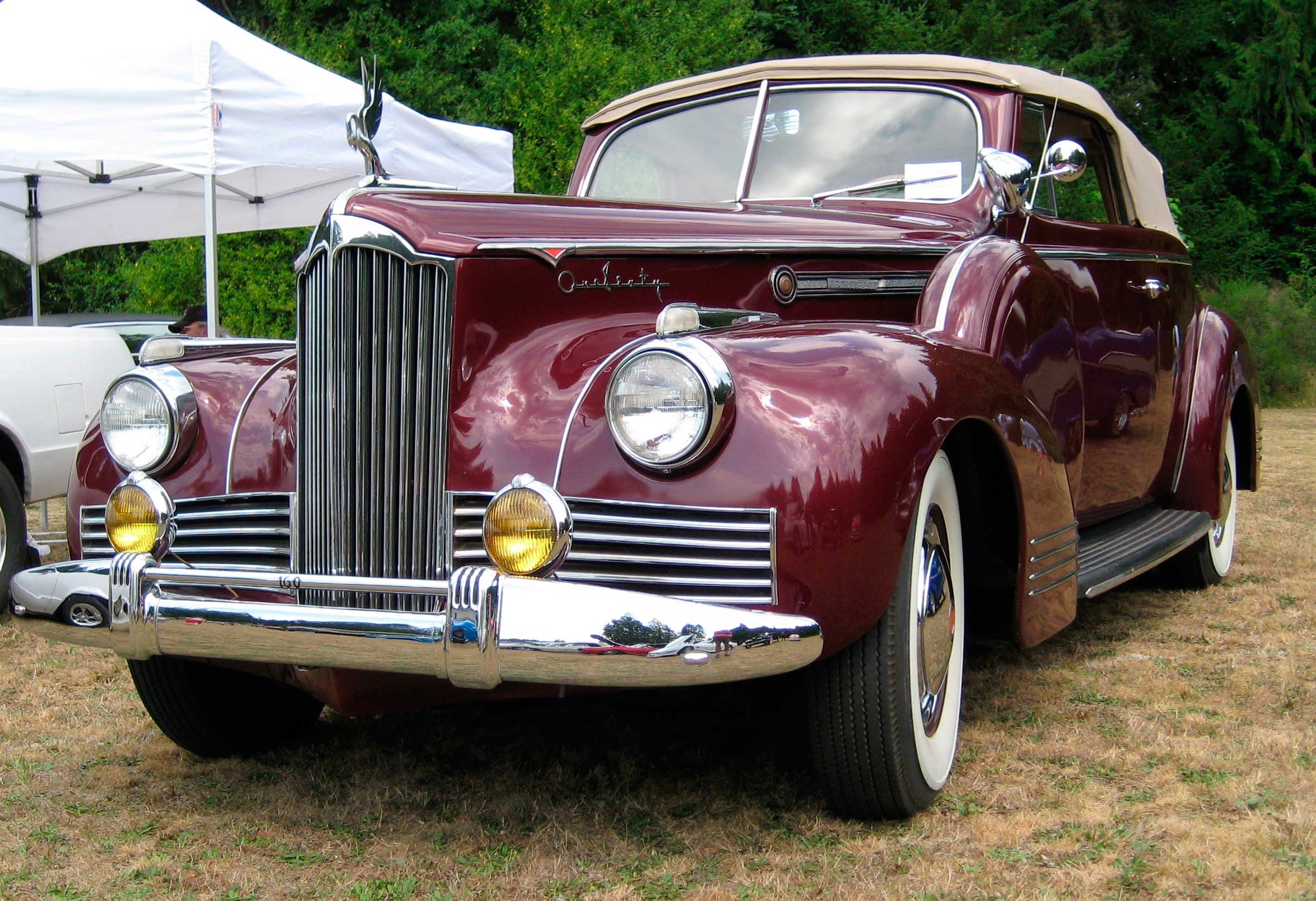 Packard Super Eight One-Sixty Convertible Coupe – 1579 (1942) with 5.833 cm3 and 165 hp engine – 8-cylinder L-head, 3-speed manual transmission with overdrive. Options: Factory radio (upgraded), Packard fog and road lamps. Type of traction: differential rear hypoid semifloating.
20th series (a.k.a. 1942) Packards were again facelifted from the previous year. New were eight basic models, four in the traditional form, and four based on the Clipper design introduced in 1941.
Special and Custom Six and Eights replaced the former One-Ten and One-Twenty, and their Deluxe variants. Technically, there were few differences. Super Eight and Custom Super Eight models were considered "senior" Packards.
There were still a few custom built Packards, with the dashy Darrin Victroria best remembered. Traditional models are identified by large horizontal side grilles, and more massive headlight rims topped by a heavier chrome trim.
Clipper models got a slightly revised grille, and a new two door club sedan style. Model year ended early, and the last 1942 models were delivered with "black-out" trim because of war restrictions on chrome.
Turn signals and dish-shaped hubcaps that did not say "Packard" were common to both Junior and Senior Packards for 1942.
Seniors straight-eight engine now generated 165 hp.
Clipper styling came to the One-Sixty in a club sedan and touring sedan on the 127-inch wheelbase, the convertible coupe being the only traditionally-styled One-Sixty now on that chassis.
The traditional One-Sixty look remained on the 138-inch and 148-inch cars, the latter chassis now including a new business sedan and limousine. There was a nod to the Clipper even in these models, however, with the change from vertical to horizontal in the grilles flanking the radiator (all non-Clippers featured this). Electric windshield wipers and an accelerator pedal starter were also new to the One-Sixty this year.
2,580 units of model 2023 corresponding to the 20 series of 1942 were manufactured.
Photo: JOHN LLOYD from Concrete, Washington, United States [CC BY 2.0], via Wikimedia Commons
Packard (1942)
Twentieth Series
Special Six Clipper, Special Eight Clipper
Custom Six Clipper, Custom Eight Clipper
Super Eight One-Sixty Clipper
Custom Super Eight One-Eighty Clipper
Custom Super Eight One-Eighty
Model/chassis
2000 Special Six Clipper 6-cylinder
2001 Special Eight Clipper 8-cylinder
2003 Super Eight One-Sixty Clipper 8-cylinder
2004 Super Eight One-Sixty 8-cylinder
2005 Super Eight One-Sixty 8-cylinder sedan / limousine
2006 Custom Super Eight One-Eighty Clipper 8-cylinder
2007 Custom Super Eight One-Eighty 8-cylinder
2010 Custom Six Clipper 6-cylinder
2011 Custom Eight Clipper 8-cylinder
2026 Custom Super Clipper 8-cylinder long wheelbase sedan / limousine
2030 Clipper 6-cylinder taxicab
Body number
15×2 touring sedan
15×5 club sedan
15×0 lwb limousine
15×1 lwb sedan
15×4 taxicab with partition
15×6 taxicab with no partition
15×8 business coupe
15×9 convertible
1529 Special Darrin Victoria convertible
15894 All Weather cabriolet by Rollson
15895 All Weather town car by Rollson
POWER - CONTROL - PERFOMANCE

- $1,795 (1942)
- 5,833 cm3 - 8-cylinder L-head
- Normal
- 165 HP
-
-
-
- 3-speed manual with overdrive
-
-
- 1942
-
-
-
- 7.00 x 15
- +6
-