Why Choose Eagle?
As the leading Jaguar E-Type specialist, we believe that the process of buying your E-Type should also be a pleasure and an experience to remember. Our long-term commitment to the satisfaction of our clients ensures that we always endeavour to match the right driver to the right car. A significant proportion of our business is from the recommendation of one owner to another. They appreciate the fact that we're always here for ongoing advice, service and maintenance, right through to the continued development of their E-Type. When you only do one thing, you should ensure that you do it better than anyone else. From our very early days we made the decision to focus purely on the E-Type. Everything we've done and every step we've taken since has been based upon ensuring we deliver exceptional results. This has led to a concentration of expertise in design, engineering, craftsmanship and development, all based specifically around the E-Type. From interior upholstery through to the development of a bespoke gearbox and aluminium engine block, Eagle have constantly worked to exceed not just our clients' expectations, but also our own. Our continual development of the Jaguar E-Type ensures that our engineering facility is constantly busy. We're not only manufacturing our tried and tested upgrade parts and packages, but also creating prototype components and systems for pre-production testing and proving. Our focus and investment in engineering ensures that we're able to offer a wide range of skills – from concept and design through to fabrication, turning, machining, specialist welding and aluminium casting. In the UK and elsewhere there are many thousands of well-qualified technicians who work on classic cars to a perfectly acceptable standard. However, 'perfectly acceptable' has never been even close to good enough for Eagle. From the very beginning we've only been prepared to recruit the very best. Everyone at Eagle shares the same passion and determination to deliver the best possible service to our clients. The outcome is a company where everyone is working to a simply defined goal – to ensure complete satisfaction at every stage of ownership. So when choosing an E-Type from Eagle you know you're in the safest of hands. We believe in having all of the key expertise and facilities we need in-house and under one roof here at Eagle. This has required significant investment in our facilities over the years, resulting in a full body shop through to a 'laboratory-like' Eagle assembly room. With our own paint shop, fabrication area and a comprehensive parts facility, Eagle really is the centre of the E-Type universe. We continue to invest in very good candidate E-Types and maintain an extensive stock on site for the needs of current and future clients. Our busy service area keeps our clients' Eagle-supplied E-Types in top-flight condition and our experts are always on hand to advise and help. (From
Eagle
)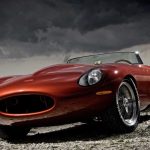 Eagle updates the Jaguar E-Type Speedster
It started as a request from Dr Rick Velaj from Connecticut – "I want something a bit … Read more "
Si continuas utilizando este sitio aceptas el uso de cookies. más información
Los ajustes de cookies de esta web están configurados para "permitir cookies" y así ofrecerte la mejor experiencia de navegación posible. Si sigues utilizando esta web sin cambiar tus ajustes de cookies o haces clic en "Aceptar" estarás dando tu consentimiento a esto.