Car brands beginning with B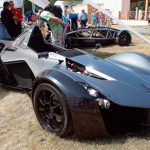 BAC (Briggs Automotive Company), the British manufacturer of Mono, was founded by brothers Neill and Ian Briggs in 2009.
The first Mono car was … Read more " Read more "
BXR Motors began with an average, American man and his dream to personally build a truly great American supercar. The man behind the … Read more " Read more "
Si continuas utilizando este sitio aceptas el uso de cookies. más información
Los ajustes de cookies de esta web están configurados para "permitir cookies" y así ofrecerte la mejor experiencia de navegación posible. Si sigues utilizando esta web sin cambiar tus ajustes de cookies o haces clic en "Aceptar" estarás dando tu consentimiento a esto.