BAC (Briggs Automotive Company), the British manufacturer of Mono, was founded by brothers Neill and Ian Briggs in 2009.
The first Mono car was produced in 2011 and made its inaugural public appearance at the VIP launch of the Retro Classics in Stuttgart, Germany.
Engineers from Cosworth, Hewland, Sachs, AP and Kumho Tires teamed up with BAC designers to launch this fun car.
The Bac Mono is a legal sports car for driving on the road.
Bac models: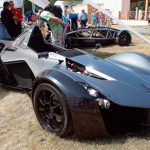 Introducing Mono, a lightweight, high-performance legal road supercar designed and built with the latest racing technology. Aimed at drivers looking for a purist … Read more "