BAC (Briggs Automotive Company), the British manufacturer of Mono, was founded by brothers Neill and Ian Briggs in 2009.
The first Mono car was produced in 2011 and made its inaugural public appearance at the VIP launch of the Retro Classics in Stuttgart, Germany.
Engineers from Cosworth, Hewland, Sachs, AP and Kumho Tires teamed up with BAC designers to launch this fun car.
The Bac Mono is a legal sports car for driving on the road.
Bac models: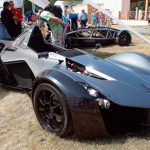 Introducing Mono, a lightweight, high-performance legal road supercar designed and built with the latest racing technology. Aimed at drivers looking for a purist … Read more "
Si continuas utilizando este sitio aceptas el uso de cookies. más información
Los ajustes de cookies de esta web están configurados para "permitir cookies" y así ofrecerte la mejor experiencia de navegación posible. Si sigues utilizando esta web sin cambiar tus ajustes de cookies o haces clic en "Aceptar" estarás dando tu consentimiento a esto.