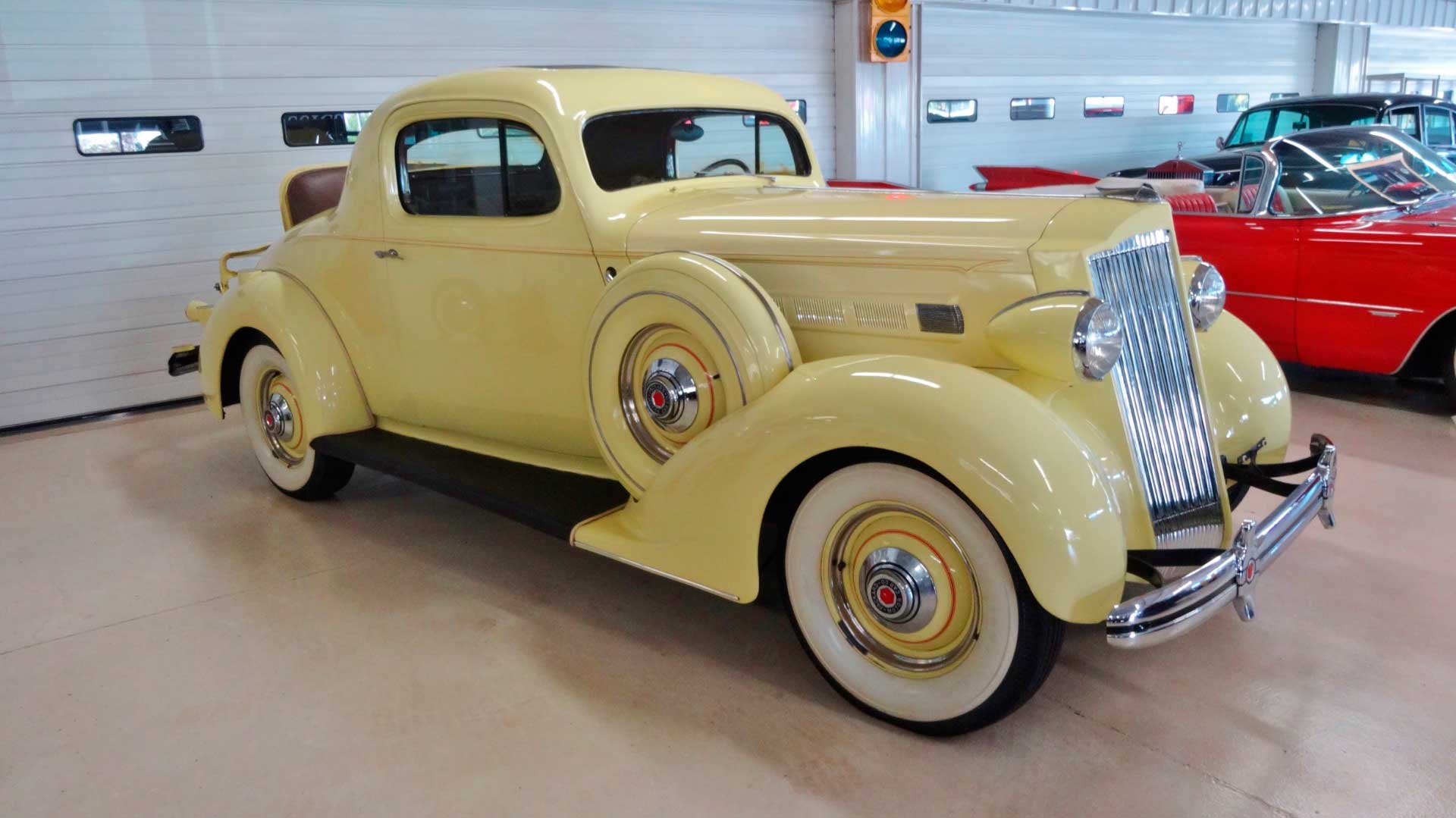 After saving Company from near-oblivion, the One Twenty series was upgraded in 1936 to 120-B specification and continued to sell in record numbers.
The 120-B was revealed in September of 1935 with a larger 282 in³ engine and other refinements such as a new cellular radiator, accelerator linkage, shift mechanism and coil springs.
The new Convertible Sedan body was the most expensive at $1395 compared to the standard Business Coupe at $990. Other available bodies included the Convertible Coupe, Sport Coupe, Touring Coupe, Sedan and Touring Sedan.
Outwardly the 1936 120-B received larger bumpers with guards and did away the suicide front doors in favor of front-hinging units.
The adjustable luggage rack on the back is another attention getter as is the hard shell spare tire covers on either side of the car in front of the running board and at the side of the engine compartments. The drivetrain consists of an 8cyl. Flathead engine paired with a manual, 3-speed transmission.
The Packard One Twenty Sport Coupe – 995 was put on sale at a price of 1,030 dollars.
55,042 units of model 120-B corresponding to the 14 series of 1936 were manufactured.
Photo: CruisinClassicsInc
POWER - CONTROL - PERFOMANCE

- 1,030 $ (1936)
- 4621 cm3 - In-line 8-cylinder engine.
- Normal
- 120 HP @ 3800 rpm
- 25.97 hp per litre.
-
-
- 3-Speed Transmission
-
-
- 1936
- wheelbase: 3048 mm
-
-
- 16-Inch Steel Disc
-
- Front: Parallel Arm w/Coil Springs, Delco Shock Aborbers - Rear: Solid Axle w/Semi-Elliptic Leaf Springs, Delco Shock Aborbers, Anti-Roll Bar