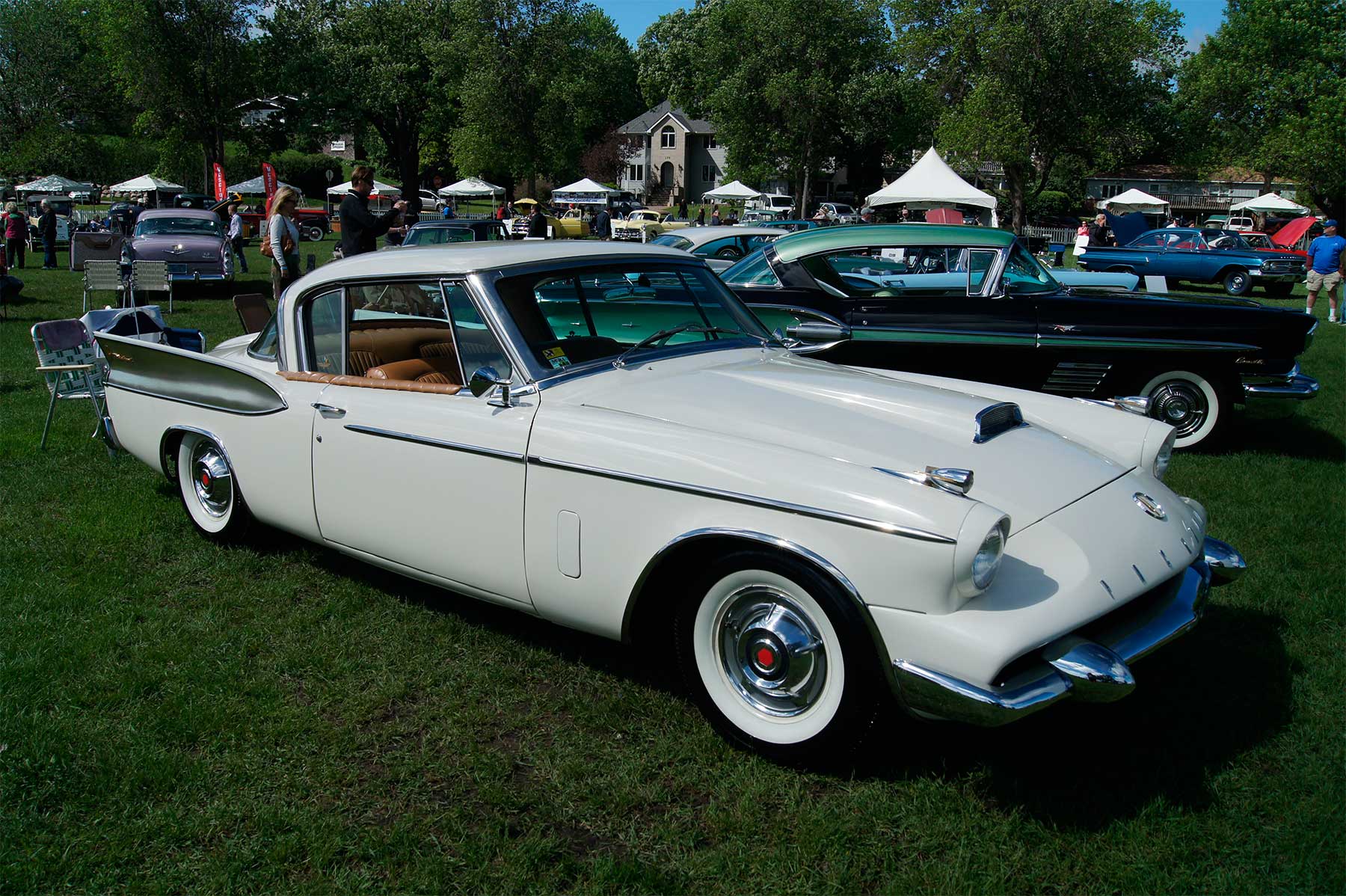 The Packard Hawk – 58L-K9 (1958) comes with a 275 bhp 4737 cm3 V-8 engine; RWD (rear-wheel drive) 3-speed Flite-O-Matic automatic transmission, equipped with power steering and four-wheel hydraulic drum brakes.
The Packard Hawk appeared in 1958 as a last-gasp effort to breathe life into the dying Packard brand. And though the car was a sales success for Studebaker, Packard ceased production of all models in 1959.
The car was essentially a rebadged Studebaker Hawk, and the Studebaker Hawk was a drastic departure from the norm of the era. It was svelte, athletic, powerful, and had wholly unique Raymond Loewy-inspired styling. Its long, low stance set it apart from the rest of the American car scene.
To make the "Packard Hawk" stand apart, it was modified to carry a Packard-ish nose. The end result was not as well-received as the Studebaker, and the public was not quick to buy the car. Only 588 were sold before Packard shuttered its doors.
Though not a success in the marketplace, the Hawk will always be noteworthy as the last "new" model to be sold under the vaunted Packard name, and the "Hawk" name overall will always be regarded as trend-setters for American cars that followed.
Photo: Greg Gjerdingen from Willmar, USA [CC BY 2.0], via Wikimedia Commons
POWER - CONTROL - PERFOMANCE

- $3,995 (1958)
- V-8 OHV - 4737 cm3
- Normal
- 275 HP @ 4,800 rpm
-
- 8.9 s
- 3500 lbs
- Column-shift three-speed automatic.
-
- 127 mph
- 1958
- Length: 5197 mm / 204.6 in, width: 1811 mm / 71.3 in, wheelbase: 3061 mm / 120.5 in
- Hydraulic, 4-wheel drum, power assisted Front: 11 x 2.25-inch finned drum Rear: 10 x 2-inch finned drum
- Type: Saginaw recirculating ball, power assisted
- Wheels: Steel with full covers Front/rear: 14 x 5 inches Front/rear: 8.00-14
- 12-volt
- Front: Independent; unequal-length upper and lower control arms; variable-rate coil springs; telescoping double-acting hydraulic shocks, anti-roll bar Rear: Solid axle; semi-elliptical five-leaf springs; full-length flanged plastic spring liners; double-acting hydraulic shocks