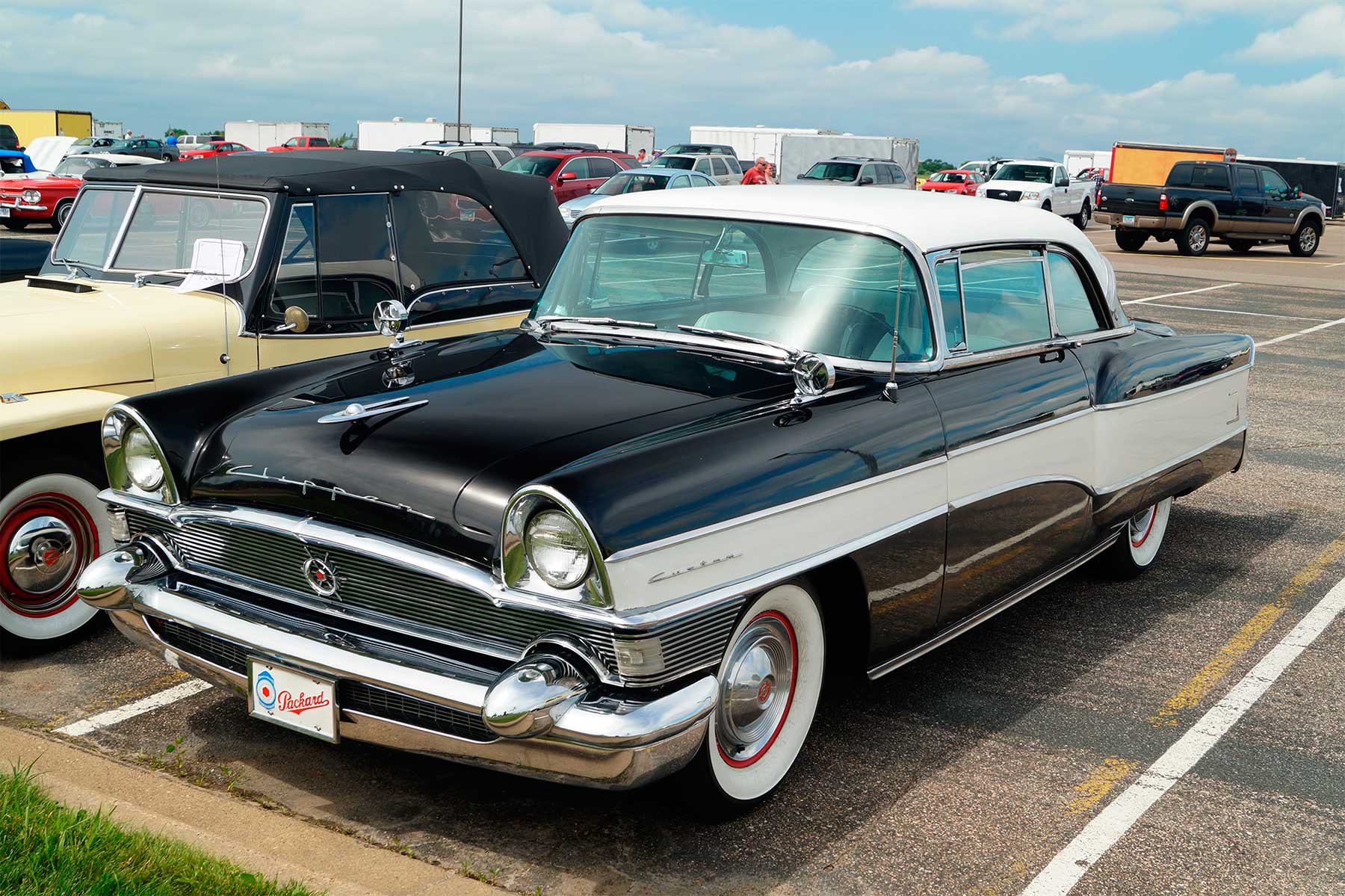 The Packard Clipper Country Sedan – 57L-P8 (1957) comes with a 275 bhp 4737 cm3 V-8 engine; RWD (rear-wheel drive) 3-speed Flite-O-Matic automatic transmission, equipped with power steering and four-wheel hydraulic drum brakes.
Only 869 units of this model were manufactured in 1957.
Packard production now consolidated with Studebaker in South Bend, and reduced to just two models for 1957 – both Clippers and both based on the Studebaker President.
Model numbering now follows a Studebaker system. Country Sedan is a new station wagon body style for Packard – first in the line since 1950.
New headlamp bezels, grille, front bumper, and ribbed side trim styled to resemble previous Packards.
Hood ornament and PACKARD letters adopted from 1955 "Seniors", but retooled to fit flatter Studebaker sheet metal.
Helmswheel motif continues for one more year. With a little sheet metal work, the 1956 Clipper shark-fin taillights are used.
Other items carried over from the 1956 Clipper include script plates, instrument panel gauges, and full wheel covers; Packard script borrowed from 1956 "Seniors".
Studebaker's largest V8 is McCulloch-supercharged to produce the same HP as the normally-aspirated Packard V8 used in 1956 "Clippers"
Photo: Greg Gjerdingen – Flickr
POWER - CONTROL - PERFOMANCE

- $3,093 (1957)
- V-8 OHV - 4737 cm3
- Normal
- 275 HP
-
- 9.5 s
- 3650 lbs
- RWD (rear- wheel drive), automatic 3-speed gearbox
-
- 113 mph
- 1957
- Length: 5202 mm / 204.8 in, width: 1953 mm / 76.9 in, wheelbase: 2959 mm / 116.5 in
- Four-wheel hydraulic drum brakes.
-
- 7.60x15
- -12
- Electronically operated, self-levelling torsion bar suspension.