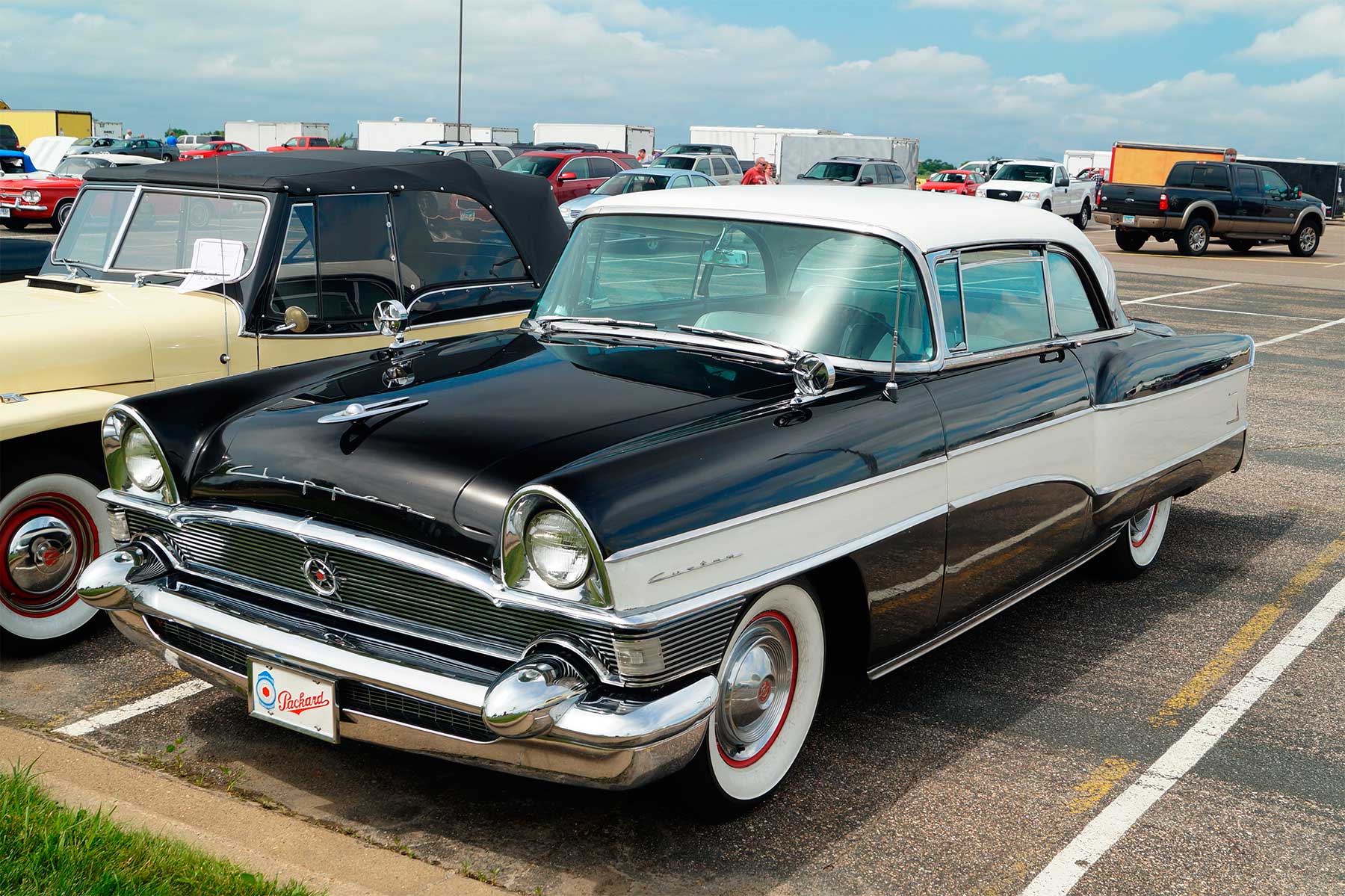 Power for all 1956 Packard Clipper came courtesy of a Packard 352 cubic inch V-8 engine. Deluxe and Super models came with a two-barrel carburetor as standard equipment, producing 240 hp. Custom and Executive models came with a four-barrel carburetor and offered 275 hp.
In 1956, Studebaker-Packard tried to stave off the brand's declining following by spinning off the Packard Clipper product line into a separate brand, simply called Clipper. Studebaker-Packard President James Nance felt that the mid-market Clipper line was a drag on Packard's reputation as a luxury automaker, even though the Clipper was Studebaker-Packard's best-selling model. In 1955, the Packard badge was dropped from the Clipper line, drawing protests from dealers who were selling the cars to aspirational buyers.
The attempt to spin Clipper into its own brand fell victim to the general decline in Studebaker-Packard's fortunes, and the Detroit factory in which the Clipper was made was shuttered by mid-1956. The Clipper name was folded back into Packard's brand for 1957, and then dropped entirely during Packard's last year of production in 1958.
The Clipper was designed to compete with mid-market offerings from Chrysler, Oldsmobile, and Mercury – a step up from Dodge, Chevrolet and Ford. The 1956 Clipper, however, started at $2,700, several hundred more than any competitor except the Chrysler Windsor.
Clippers were available as four-door sedans or two-door hardtop coupes in three trim levels. The basic sedan was a Deluxe, the mid-line Super sedan or Panama Hardtop, and the top level Custom sedan or Constellation hardtop. In mid-year, the Custom line was replaced by the Executive line, with no substantial changes except for the use of an upscale Packard grille and side trim.
The standard transmission on the Clipper line was a three-speed column-shifted manual, with optional overdrive. "Clippers" could also have the Packard Twin Drive Ultramatic two-speed automatic as an option. All Executive trim level cars were fitted with the Ultramatic. Also optional was the pushbutton electronically shifted version of the Ultramatic. A limited-slip differential was also optional on all cars.
Some 1956 "Clipper Deluxe" and "Super models" came with a standard suspension, and others with the optional torsion bar suspension. All "Custom/Executive" cars were fitted with torsion bars, and by the end of the model year all "Clippers" were being fitted with torsion bars. Other options of note include a WonderBar radio, heated front seat, and air conditioning, which alone added $647 to the price of the car.
By 1956, the design of the "Clipper" was showing its age, still looking more akin to the 1953-1954 models from which it was derived. Hardtops in this style make a much more attractive presentation than the sedans, and with a production total of just over 20,000 "Clippers" in 1956, just under 6,500 were hardtops. As with all cars of this vintage, condition is far more important than the specific trim level or option list, but all else being equal, hardtops should be favored over sedans.
Photo: Greg Gjerdingen from Willmar, USA [CC BY 2.0], via Wikimedia Commons
Packard (1956)
56th series (a.k.a. 1956) Parkards have slightly revised front bumpers with horns set farther apart. The "bulge" seen on 1951-1955 Packard trunk lids is eliminated, therefore the tail looks bulkier. The rear window on four doors is larger and farther rounded. Only Clipper Deluxe keeps old roof line. Torsion Level Ride is standard equipment on all lines, with conventional springs a no-cost option on Clipper Deluxe only. Push button transmission control is an option for cars wit Twin Ultramatic transmission (standard on Caribbean). Positraction is made an option.
New grille for "senior cars" with larger directional lights that are visible from the side. Full length aluminum bright trim (1955 side trim unchanged for Caribbeans). "Circle V" logo on trunk of "seniors" and "Executive", therefore tail lights now lack this logo. Early "senior cars" are delivered with silver anodized screens behind the grille and the bumper opening. A change to gold anodized screens follows soon.
New Caribbean Hardtop with Hypalon (vinyl) covered top. Caribbeans get new seat benches with demountable ands reversal cushion – leather on one, Bouclé on the other side of the cushions. Caribbeans again come with a choice of four three-tone combinations and Kelsey-Hayes wire wheels.
"Clippers" have a new face, too, without hooded hedlamps and horizontal grille bars. Taillights are new and similar to 1957 and 1958. Side trim is new. "Clipper Deluxe" has it's own style with two unconnected trim bars, others have a color stripe that widens at the rear. At first, "Clippers" were delivered without any Packard script. A trunk lid script was added during the model run. As Deluxe uses 1955 wheel covers, it still has Packard lettering on it.
Model name
Clipper Deluxe 240hp
Clipper Super 240hp
Clipper Custom 275hp
Executive 275hp
Patrician 290hp
Four Hundred hardtop coupe 290hp
Caribbean hardtop coupe 310hp
Caribbean convertible coupe 310hp
Chassis number
5640 Clipper Deluxe, Super
5660 Clipper Custom
5670 Executive
5680 Patrician and Four Hundred
5688 Caribbean
Body number
56×2 touring sedan
56x2A Executive touring sedan
56×7 Panama / Constellation / Four Hundred (2-door) hardtop coupe
56x7A Executive and Caribbean (2-door) hardtop coupe
56×9 Caribbean convertible coupe
POWER - CONTROL - PERFOMANCE

- $3,069 (1956)
- V-8 OHV - 5766 cm3
- Normal
- 275 HP
-
- 9 s
- 4070 lbs
- RWD (rear- wheel drive), manual 3-speed gearbox
-
- 116 mph
- 1956
- Length: 5470 mm / 215.344 in, width: 1981 mm / 78 in, wheelbase: 3099 mm / 122 in
- Front and rear 279 mm / 11 in drum brakes
-
- 7.60x15
- -12
- Electronically operated, self-levelling torsion bar suspension.