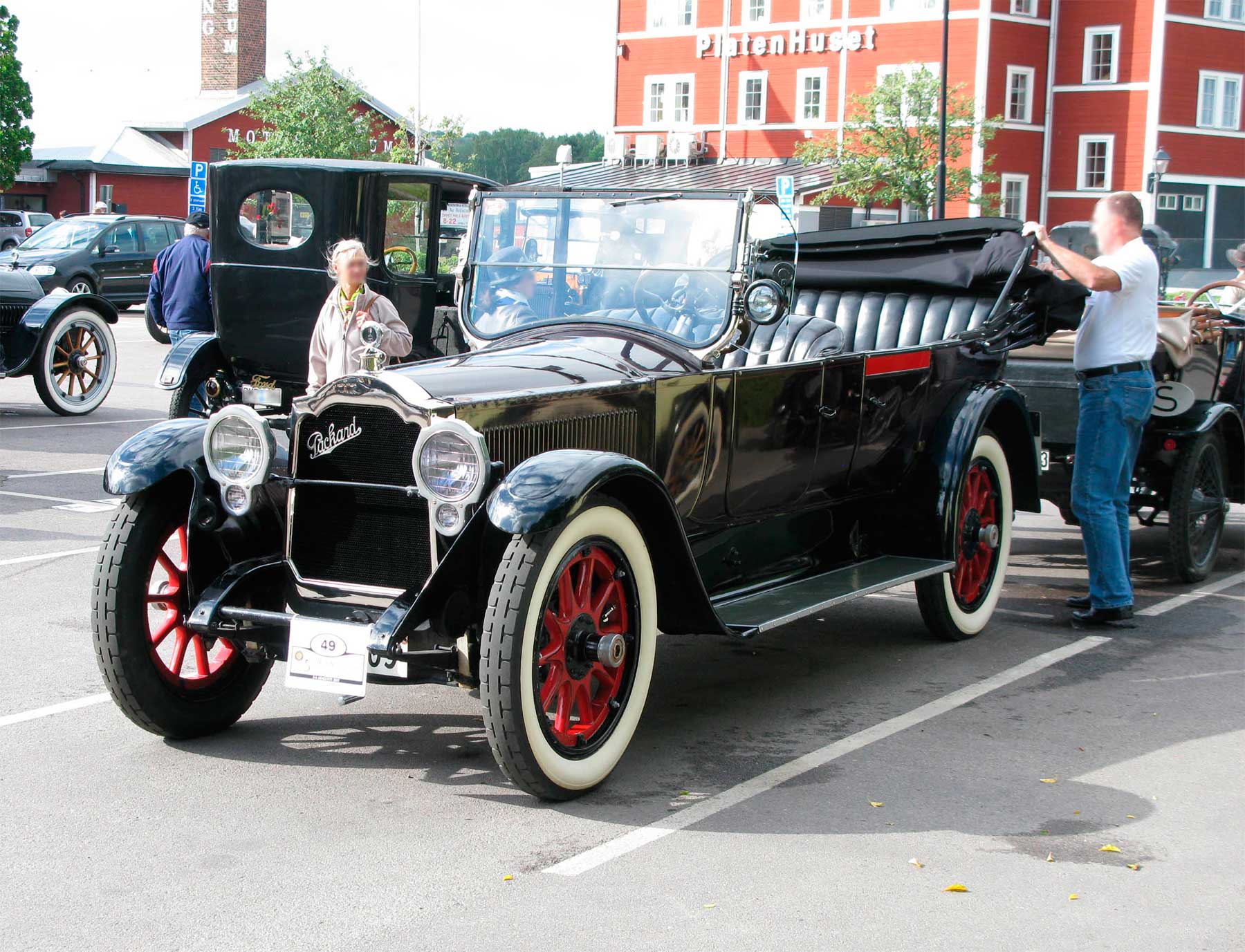 The "Packard Model 3-35 Twin-Six Touring" (1920) came with a 12-cylinder V-engine and a displacement of 6950 cc | 424.1 cu in. transmitting a force of 90 hp @ 2600 RPM. Designed by Colonel Jesse Vincent. This engine drove the company's prestige models until 1922.
With a capacity for 7 passengers, its wheelbase was 136 in | 3454 mm.
The V-12 engine was comprised of two six-cylinder cars-iron blocks set at a 60-degree angle and rested atop an aluminum crankcase. It was a side-valve design that displaced a total of 6950 cc | 424.1 cu in. and produced 90 horsepower. The pistons were made from lightweight aluminum alloy and there was full pressure lubrication which aided in the engines longevity.
The engine, clutch, and gearbox were a single unit and replaced Packard's earlier design of having the transaxle mounted on the rear axle. Packard was one of the first to use this type of drivelines. This setup reduced unsprung weight of the rear axle, improved ride and handling, and provided more reliability and rigidity.
The technological improvements continued for 1917 with Packard introducing a redesigned Twin Six with separate cylinder block and head castings. The aluminum pistons now had two compression rings and an oil scraper. Also, the intake and exhaust manifolds were redesigned. Even with these improvements, the horsepower rated remained at 90, although the rated RPM figure droped from 3000 to 2600.
Photo: Herranderssvensson [CC BY-SA 3.0], via Wikimedia Commons
Packard (1920)
POWER - CONTROL - PERFOMANCE

- $5,500 (1920)
- L-head 60° V-12, cast in two blocks. Removable cylinder heads, Bore 3 inches, stroke 5 inches, 424,1 cubic inches - 6950 cc
- Normal
- 90 hp at 2600 rpm.
-
-
-
- Selective sliding gear in unit, with three forward speeds, semi-floating differential; spiral bevel gears; multi-disc, dry plate clutch, six driving discs; rear axle ratio 4,36
-
-
- 1920
- Wheelbase: 136 inches
- two-wheel, internal emergency and external service brakes on 17" drums.
- Worm and nut.
- Artillery, 33x5 tires on detachable rims.
- Ignition: supplied by 6-Volt Generator, battery and Packard-Delco distributor.
- Front, semi-elliptic longitudinal leaf springs; rear, platform, semi elliptic leaf springs.