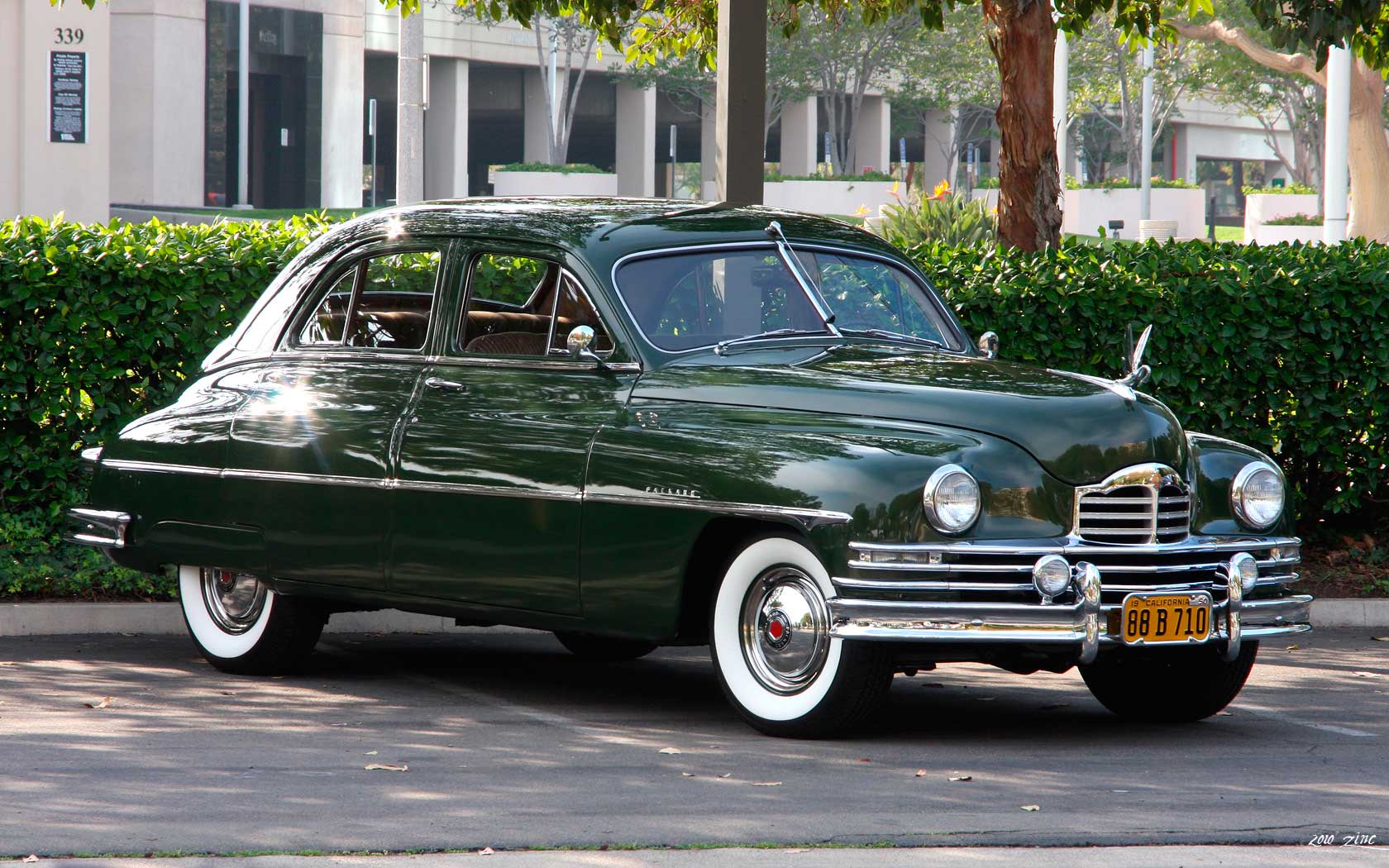 The Packard Deluxe Eight Touring Sedan – 2362-5 (1950) has an inline 8-cylinder engine of 4.730 cm3 and 135 hp, RWD (rear-wheel drive), 3-speed manual gearbox and a wheelbase of 3048 mm.
Optional Equiptment
Heater and defroster. Six-tube radio. Deluxe eight-tube radio. Roof- mount radio antenna. Cowl-mount radio antenna. Custom sun visor. Traffic light viewfinder. White sidewall tires. Coat hooks. Dual vanity mirrors. Emergency brake alarm. Cormorant hood ornament (unless standard). Rear wheel shrouds (unless standard). Tissue dispenser. Road lamps. Fog lamps. Rear seat draft deflectors on four-door sedans. Cloisonne hubcap medallions (except standard Customs). VentI-Shades. License plate frames. Gasoline filler panel guard. Door edge guards. Spare tire valve extension. Outside rearview mirrors (right- and/or left-hand). Plaque with original owner initials. Vacuum-type radio antenna. Fuse kit. Trouble light. Exhaust deflector. Wheel blocks. Curb feelers. Underhood light. Spotlight. Wheel trim rings. Rear bumper guard and protection rail. Select-O-Spring seat inserts. Two- tone finish. Ultramatic trunk logo (standard on cars with Ultramatic Drive). Overdrive ($92). Electronic clutch with overdrive ($128). Ultramatic Drive ($1 85-$225). Oil bath air cleaner ($7; standard on Super and Custom). Available rear axle ratios included: 3.54:1, 3.90:1, 4.09:1,4.10:1 and 4.36:1.
1950 was last of the 23rd series, and that meant the end of one of the sleekest designs around. The front bumpers and grille were part of one harmonious design, and they both look like the wind formed them around the body.
40,359 units of model 2301 corresponding to the series 23 of 1950 were manufactured.
Photo: Rex Gray [CC BY 2.0], via Wikimedia Commons
Packard (1950)
Ultramatic Drive was made available (as an option) on the low-priced Eights. The front bumpers have chromed centers instead of the painted type used in 1948. A thin spear of chrome runs down the middle of the body sides, stopping just forward of the tail lamps on base Packard Eights. Above this molding, on the front fenders, Packard block lettering appears and is underlined in chrome. The taillight lenses are set in protruding oval-shaped bright metal housings except on Station Sedans. Oval clutch/brake pedals were used. A Packard script plate was placed between the speedometer and clock opening. A new illuminated switch turned on the engine. The Deluxe Eight had chromed 13-inch diameter hubcaps. The Standard Eight had 10-inch diameter hubcaps.
Twenty-Third Series – Note that the Twenty-Third series was built from mid 1949 through 1950
Eight 135hp
Deluxe Eight 135hp
Super Eight 150hp
Super Deluxe Eight 150hp
Custom Eight 160hp
Model/chassis
2301 Eight and Deluxe Eight 8-cylinder
2302 Super Eight and Super Deluxe Eight 8-cylinder
2306 Custom Eight 8-cylinder
2322 Super Deluxe Eight 8-cylinder lwb sedan / limousine
2332 Super Eight Victoria convertible
2333 Custom Eight Victoria convertible
Body number
23×0 limousine
23×1 lwb sedan
23×2 touring sedan
23×3 station sedan
23×5 club sedan
23×9 convertible
POWER - CONTROL - PERFOMANCE

- $2,383 (1950)
- 4.730 cm3 - 8 cylinders in line.
- Normal
- 135 HP
-
- 18.2 s
- 3840 lbs
- RWD (rear- wheel drive), manual 3-speed gearbox
-
- 87 mph
- 1950
- length: 5199 mm, width: 1968 mm, wheelbase: 3048 mm
- Hydraulic four-wheel drum brakes.
-
- 7.60x15
- 6V 100 Ah
- Independent front suspension with coil springs, rear axle with semi-elliptic springs