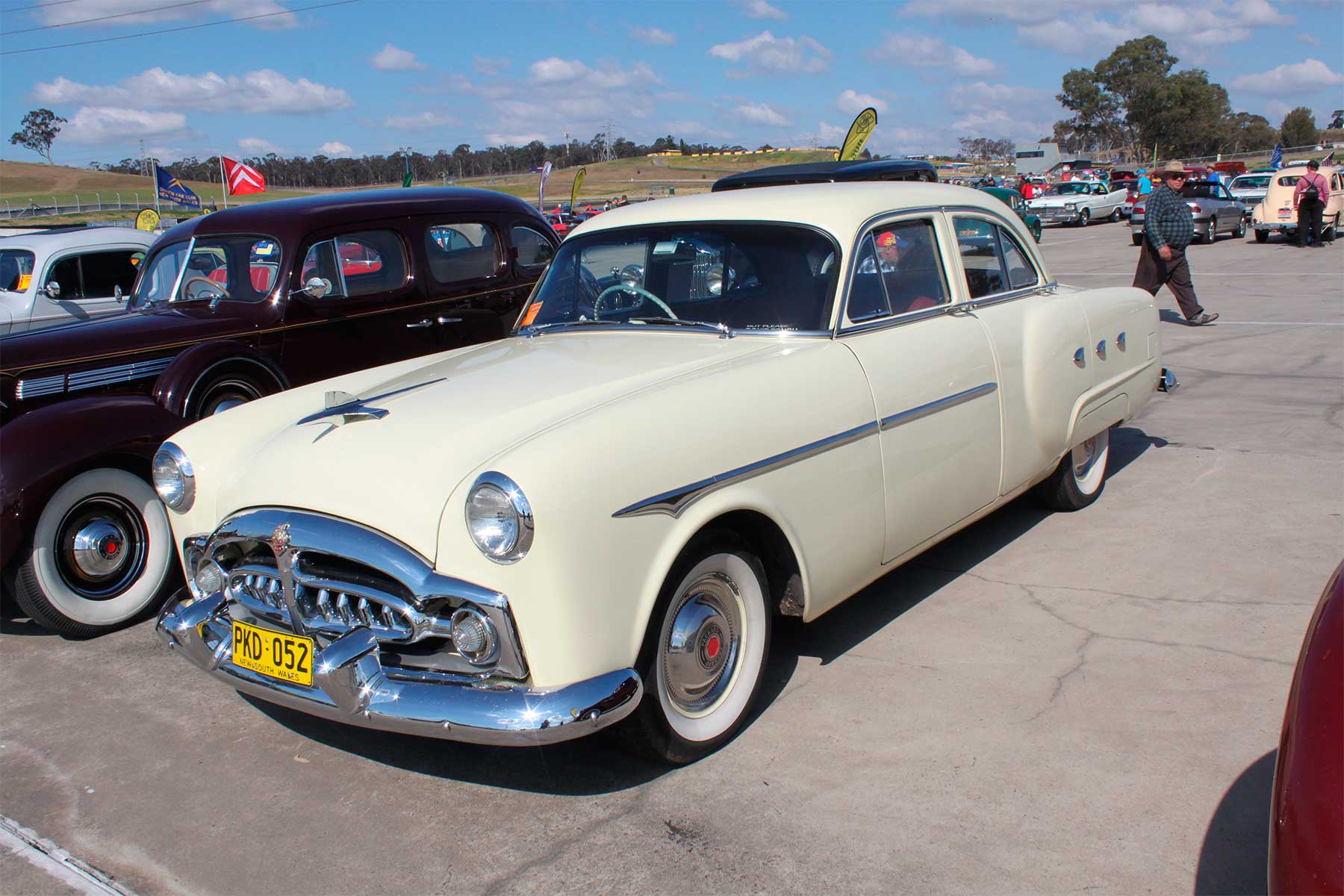 The Packard 200 Touring Sedan – 2592 (1952) has an inline 8-cylinder engine of 4730 cm3 and 135 bhp, RWD (rear-wheel drive), 3-speed manual gearbox and a wheelbase of 3099 mm.
Packard block lettering on the hood was no longer used. A company crest was added to the middle of the upper grille surround. Packard 200s are identified by single chrome spears across the front fender and door; and jet plane style hood ornaments; and a toothless grille.
Standard equipment was Comprised of twin horns; two sun visors; two variable-speed vacuum windshield wipers; horn blow ring; front and back bumper guards; bumper jack; tools; map lights; front door courtesy lights; and front seat armrests.
Optional Equiptment
Whitewall tires, when available ($27.60). Genuine leather upholstery ($153). Heater and defroster ($76.50). Two-tone exterior finish ($20). Signal- seeking radio with electric antenna and rear speaker ($125.80). Rear fender shrouds ($21.45). Wheel hub shell covers ($16.35). Pelican hood mascot ($13.45). Robe cord ($12.35). Windshield washer ($9.40). Non-glare rearview mirror ($5.95). Patrician 400 steering wheel ($14.25). Foam rubber rear seat cushions ($12.25). Back-up lights and trunk compartment lamp ($13.85). Solex tinted glass ($45.20). Easamatic power brakes ($39.45). Rear window wipers. Fog lamps. Spotlight. Woodgrain tissue dispenser. Exterior sun shade. Traffic light viewfinder. Visor vanity mirror. Road lamps. Vent-I-Shades. Chrome exhaust deflector. Curb feelers. Gas door guard. Locking gas door. Door edge guards. Spare tire valve extension. Exterior rearview mirror, left-hand and/or right-hand. Fuse kit. Trouble light. Underhood lamp. Wheel blocks. Overdrive transmission ($102). Ultramatic Drive, standard in Patrician 400, optional on other models at extra cost ($189). When equipped with Ultramatic, changes in relation to use of high-compression cylinder head were the same as detailed under 1951 Packard powertrain options. The 327-cid five main bearing Packard 300 engine was available in Packard 200/200 Deluxes at extra cost ($45). Oil bath air cleaner ($8.70). Oil filter ($11.80). On cars equipped with overdrive transmissions (not available in Patrician 400) a new clutch driven member and tailshaft mounting were used.
46,720 units of model 2501 corresponding to the 25 series of 1952 were manufactured.
Photo: Jeremy from Sydney, Australia [CC BY 2.0], via Wikimedia Commons
Packard (1952)
Model year production was 69,921 cars. Calendar year sales were 69,988 cars. Packard was the 16th ranked automaker. In May 1952, Hugh Ferry announced that James J. Nance would become his successor as president and general manager of Packard Motor Car Corp.
Model name
200 135hp
250 150hp
300 150hp
400 Patrician 155hp
Chassis number
2501 200 and 250
2502 300
2506 400
2531 250 Mayfair
Body number
25×2 touring sedan
25×5 club sedan
25×7 Mayfair sports coupe (2-door hardtop)
25×9 convertible coupe
POWER - CONTROL - PERFOMANCE

- $2,528 (1952)
- 4730 cm3 - 8 cylinders in line.
- Normal
- 135 HP
-
- 16.9 s
- 3680 lbs
- RWD (rear-wheel drive), 3-speed manual gearbox
-
- 88 mph
- 1952
- Length: 5404 mm, width: 1978 mm, wheelbase: 3099 mm.
- Front brakes: 305 mm drum - Rear brakes: 305 mm drum.
-
- 7.60x15
- 6V 100 Ah
- Independent front suspension with coil springs, rear axle with semi-elliptic springs.