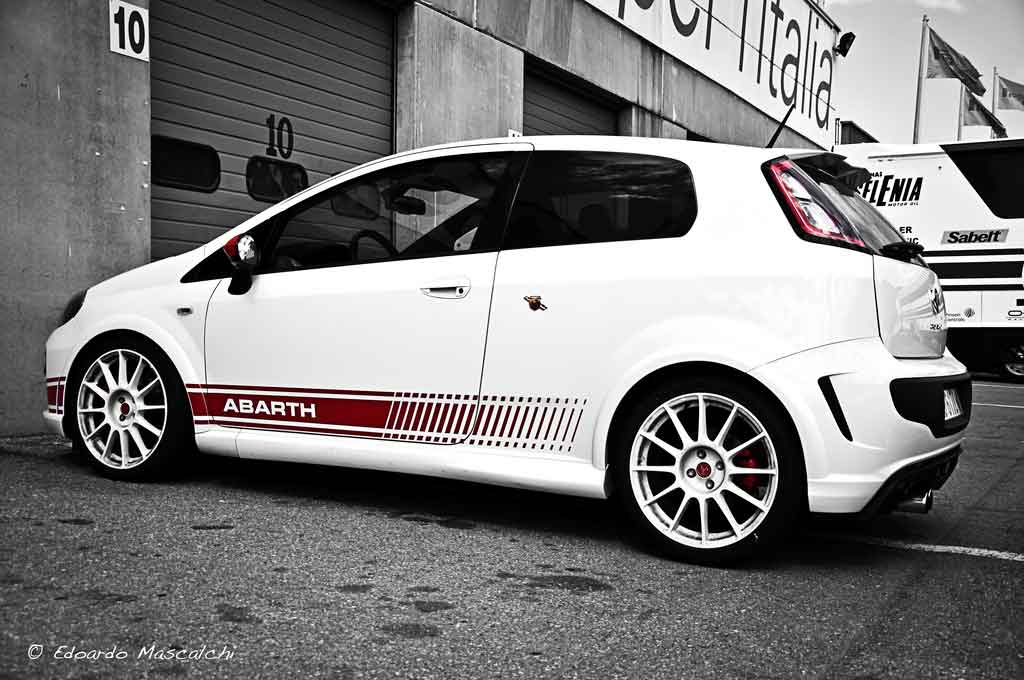 Bolstered by the success of the recent conversion kits (one Abarth 500 in three is converted using the official kit), Abarth has expanded its range by launching the world premiere of the esseesse kits for the new Abarth 500C and Abarth Punto Evo models in Paris. These are designed to improve performance, handling and safety without having to sacrifice the car's low emissions and fuel consumption.
The stand will host two esseesse cars that perfectly illustrate the spirit of Abarth tuning, encapsulating substance and unassuming good looks: in accordance with brand tradition and market requirements, Abarth cars are a mix of sporty yet elegant looks and safe driving experience, yet always with sporty performance levels. The Punto Evo esseesse is in fact capable of 180 HP with truly thrilling performance levels: maximum torque of 270 Nm at 3000 rpm, top speed of 133 mph and acceleration from 0-100 63 mph in just 7.5 seconds.
The Abarth Punto Evo esseesse is exhibited with a Campovolo Grey body, named after the airfield, still operational today, that is located opposite the company's historic headquarters in Corso Marche, Turin. This was where the young Karl Abarth used to buy paint for his cars, the very same Campovolo grey shade used for aircraft. In detail, the Abarth Punto Evo on show combines this particular colour with an Abarth band in the body shade and 18″ alloys in a special titanium-coloured esseesse design. Inside, the car features Abarth Corse by Sabelt seats in black leather with a distinctly sporty design and an Abarth Blue&MeTM MAP satellite navigation system complete with telemetrics developed with Magneti Marelli.
These two models may be very different but they share a single spirit, the sporting spirit of the Abarth scorpion logo, which has proved itself capable of igniting the passion of thousands of motorists with a taste for challenge, performance and Italian style. In the words of the advertising slogan "More power to your senses", on an Abarth car all your senses are stimulated to the maximum. The perception is further amplified by the two kits that guarantee even more driving performance and adrenaline: all in all, the Abarth conversion kits represent empowerment taken to its highest levels.
(from Abarth Press Release)
POWER - CONTROL - PERFOMANCE

- 22 965 Euros (2011)
- 1.4 16v Turbo Multiair - 4 cylinders in line.
- Turbocompressor
- 180 HP (132 kw) @ 5.750 rpm.
- 128.6 HP per litre.
- 7.5 seconds.
- 7.5 seconds.
- Six-speed manual gearbox with two axles.
-
- 133 mph
- 2011
- Longitud: 4.065 m. Anclaje: 1.726 m. Altitud: 1.470 m.
- 305 x 28 mm perforated and ventilated front disc brakes, 264 x 11 mm perforated rear disc brakes
- DST (Dynamic Steering Torque) variable electric assistance rack and pinion steering. Turning circle: 11.0 m. Steering wheel turns: 2.60.
- 215/40 ZR18 tyres with 7.5" x 18" Esseesse alloy wheels
- Bosch injection ME 7.3 HA
-