The Abarth 2000 Sport SE is one of the last remaining prototype sports cars from the illustrious Maranello Rosso Collection museum in San Marino.
This model emerged in 1969 and was strongly influenced by the demonstrable aerodynamic performance of the Lotus Type 56 gas turbine engine of the 1968 Indianapolis Speedway cars. The design was done by Abarth's chief engineer, Mario Colucci, a former advocate of the central engine assembly in front of the rear axle line, in direct conflict with the philosophy of his boss, Carlo Abarth, who always preferred the outboard engine assembly hanging behind the rear axle.
Overall, it was once again Boss's views that prevailed in the first of Abarth's 'Cuneo' series sports cars, the 2000 SE014 with large displacement engine, introduced at the beginning of the 1969 season.
In fact, Colucci designed that car as a development of the successful multitubular chassis of the 2000 Sport Spider SE010, and then dressed the final result in the newly conceived body shape in the form of 'Cuneo' or 'wedge'. At least 50 units are believed to have been produced.
The power was supplied by Abarth's familiar 16-valve, 4-cylinder 1,946cc twin camshaft racing engine, producing 250 hp at 8,700 rpm. The bodywork was handcrafted at the Abarth Corso Marche factory by resident craftsman Giuseppe Manera. The total weight was only 560kg 1.235lbs and, driven by the specialist in hill climbing Edoardo Lualdi Gabardi.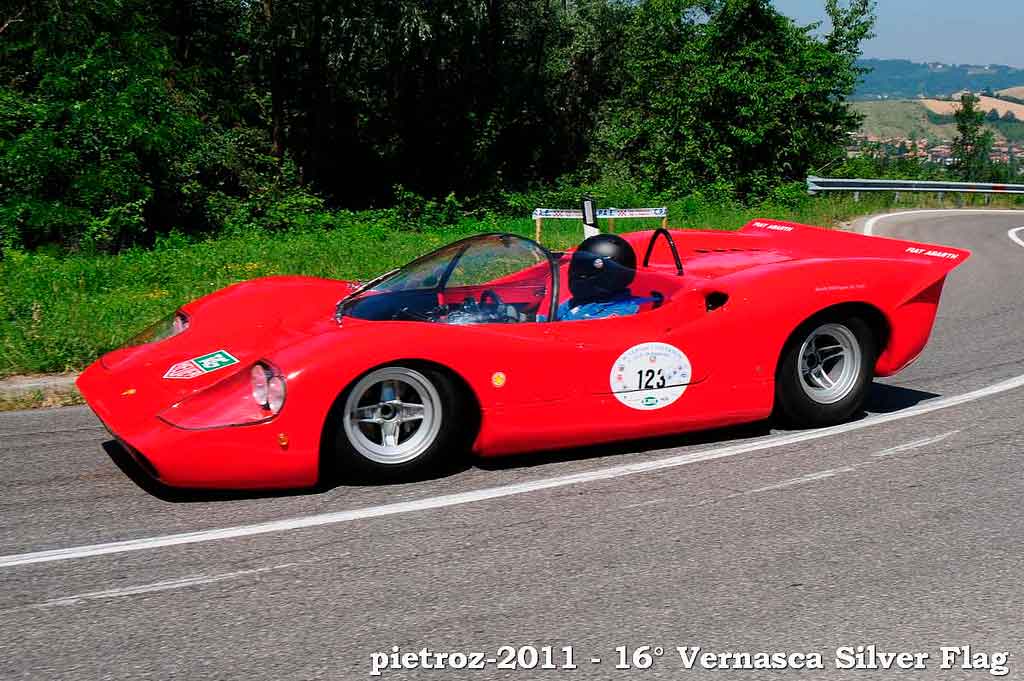 Images:
– René from Österreich [CC BY 2.0], via Wikimedia Commons
– Fiat Abarth Sport 2000 SE 010 – Maron Peter – Ecurie 3 Chevron by Pietro Zoccola
POWER - CONTROL - PERFOMANCE

- £186,300 - 2014 Bonhams Goodwood Revival
- 1.946 cc - 2 Weber 58 DCO3 carburetors - 4 valves / cylinder, DOHC
- Naturally Aspirated
- 256 hp / 191 kW a 8,700 rpm
- 132 hp / litre
-
- 1,268 lbs.
- Rear-wheel drive - 5-speed manual
-
- 168 mph
- 1968
- 3,850 mm / 1,780 mm / 970 mm
- Girling discs, 2-pot caliper
-
-
-
- Front suspension: double wishbones, coil springs over dampers, anti-roll bar - Rear suspension: reversed lower wishbones, top links, trailing arms, coil springs over dampers, anti-roll bar