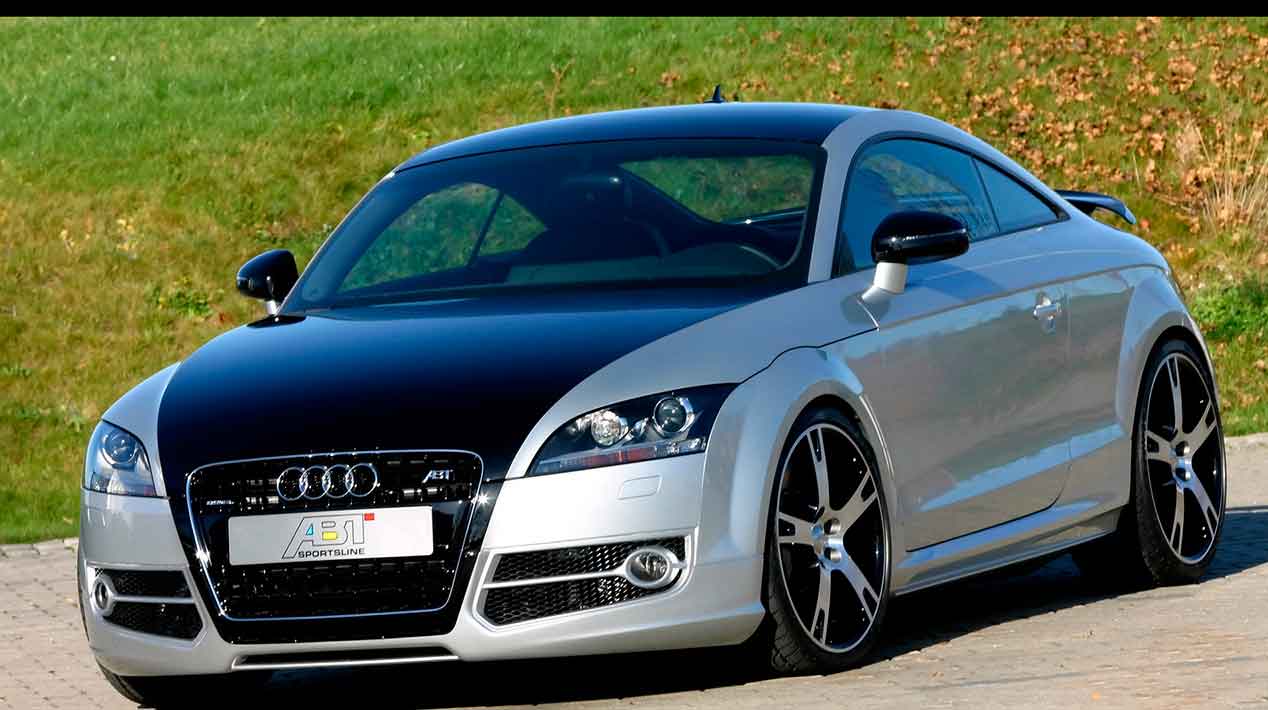 With the Abt TT-R Abt Sportsline celebrated the most amazing motor sport victories in the season 2002. Hardly anyone was able to beat the Abt TT-R. In nine of the ten DTM races at least one of the Abt pilots clinched a podium position, and at the end Laurent Aiello won the DTM championship in the yellow Abt TT-R. Therefore it is no wonder that the Abt team from Kempten has a special relationship with their TT and it is a fortunate coincidence that the second version of this sporty Audi model just appears on the market when the family enterprise celebrates its 110th company anniversary. At the same time, this happenstance means a challenge for Abt Sportsline – a challenge the team from Kempten meets by enhancing this exceptional sports car.
The new Audi TT is a model which already combines clarity and form with modern technology in the serial car and therefore offers maximum driving pleasure. This is the best precondition we can imagine to perfect a car, explains Hans-Jürgen Abt, managing director of Abt Sportsline – and presents convincing data:
The masterpiece in the new Abt TT model range is the Abt TT-R equipped with a VR6 3.2 ltr. engine and a performance of 355 HP (262 kW). This outstanding sports car offers real racing adventure for the roads. The Abt TT-R accelerates from standstill to 100 km/h in 5.1 seconds compared to the serial model that takes 5.9 seconds.
In connection with the Abt TT-Sport models, the Bavarian team has also noticeably boosted the power of the VR6 3.2 ltr. engines . The Abt supercharger kit and modifications of the motor management ensure that the 3.2 ltr. 6-cylinder engine now performs 310 HP (228 kW) instead of the serial 250 HP (184 kW).
To accompany this excess power, Abt has modified the suspensions accordingly, but there is no reference to the braking system.
From an aesthetic point of view, Abt adds a beautiful front bumper that is both muscular and elegant, rocker panels, 19-inch aluminum wheels mounted on 255/35 size tires, a specific rear bumper with aluminum colored diffuser and two double chrome exhaust outlets, as well as an attractive spoiler.
(from Abt Sportsline)
POWER - CONTROL - PERFOMANCE

-
- 3.2 liter V6
- Supercharger
- 355 HP
- 110.9 hp per liter
- 5.1 seconds
-
-
-
-
- 2007
-
-
-
-
-
-