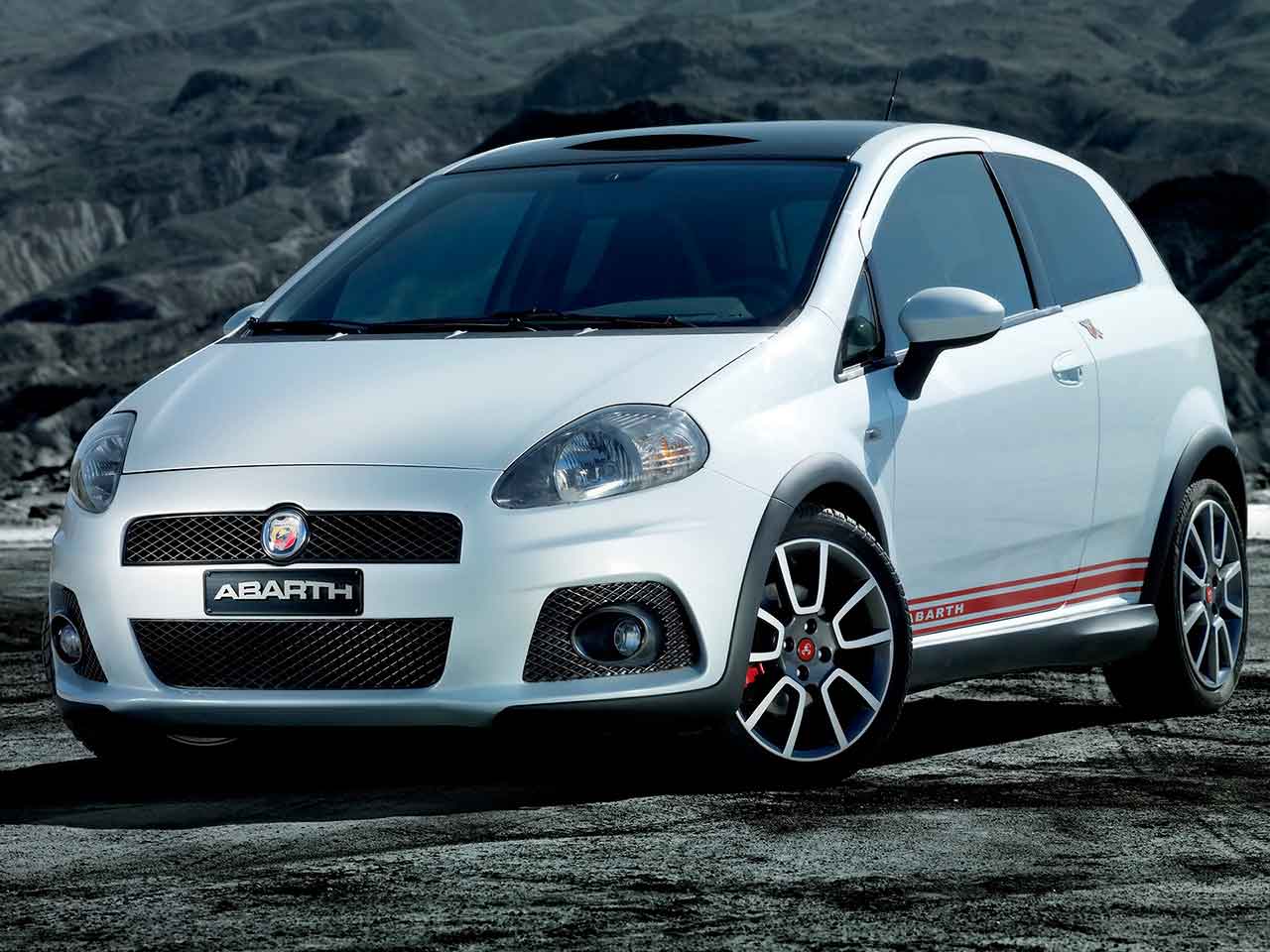 The common features of these models are the strongly sporty look with a lowered finish, extended front and rear mudguards, darker and oversized wheels, front engine cooling holes, the renewed Abarth band on the sides, mini skirts, double exhaust pipe and the Abarth brand in the centre of the grille, also renewed in style, as has already happened with the Fiat brand. In the interior, the sporty layout with finishes adorned with noble materials such as carbon, enamel and the inevitable aluminum.
The dashboard was equipped with a special cover that imitates carbon on the console and leather on the top with a beautiful red stitching. The Abarth Grande Punto also offered bucket seats that held the body securely against lateral and longitudinal forces, while maintaining the ergonomics and comfort of seats intended for road use. It had to be taken into account for the Sunday pilots that the backrest included the headrest and the slot that allows the possible passage of harnesses with four fixing points. Well equipped (air conditioning, MP3 CD, etc.) and well presented, this Fiat Grande Punto Abarth could have been enhanced with various accessories and comfort equipment such as leather upholstery, rain sensor, tyre pressure sensor or a panoramic roof called Skydome.
The Abarth Grande Punto Preview aimed to revive the exploits of those entertaining high-performance cars, offering young drivers in particular the opportunity to enter the racing world in complete safety and at an affordable price. It combined the nervousness and power of Abarth with Giugiaro's sporty, slender line.
1.4 turbo petrol engine (Garrett fixed geometry) from 150 hp to 5500 rpm, increased to 155 hp with the use of special petrol. The maximum torque was also high (in the data sheet it was marked with a value of 206 Nm available from 2,000 rpm up to 230 Nm at 3,000 rpm in Sport mode). With an upgrade kit that Abarth made available to customers by increasing the power to 180 hp. Among the technical innovations introduced was the "drive by wire" throttle control without mechanical connections. The six-speed manual gearbox.
POWER - CONTROL - PERFOMANCE

- 18.000 euros (2007)
- 1.4 liters - 4 cylinders in line, 4 valves per cylinder
- Turbocharger
- 8.2 seconds - 7.5 seconds with SuperSport kit
- 107.1 HP/litre
- 8,2 secondes - 7,5 secondes avec le kit SuperSport
- 1200 Kg
- 6-speed gearbox
-
- 134 mph with SuperSport kit
- 2007
-
- Brembo M4x40 fixed front caliper with double piston; - Front brake disc ø 305 mm x 28 mm, ventilated; - Rear caliper, piston diameter 54 mm; - Rear brake disc ø 264 mm x 11 mm.
- Electrically assisted driving with SPORT mode
- 7" x 17" aluminum alloy wheels; - Tires: 215/45-17.
-
-