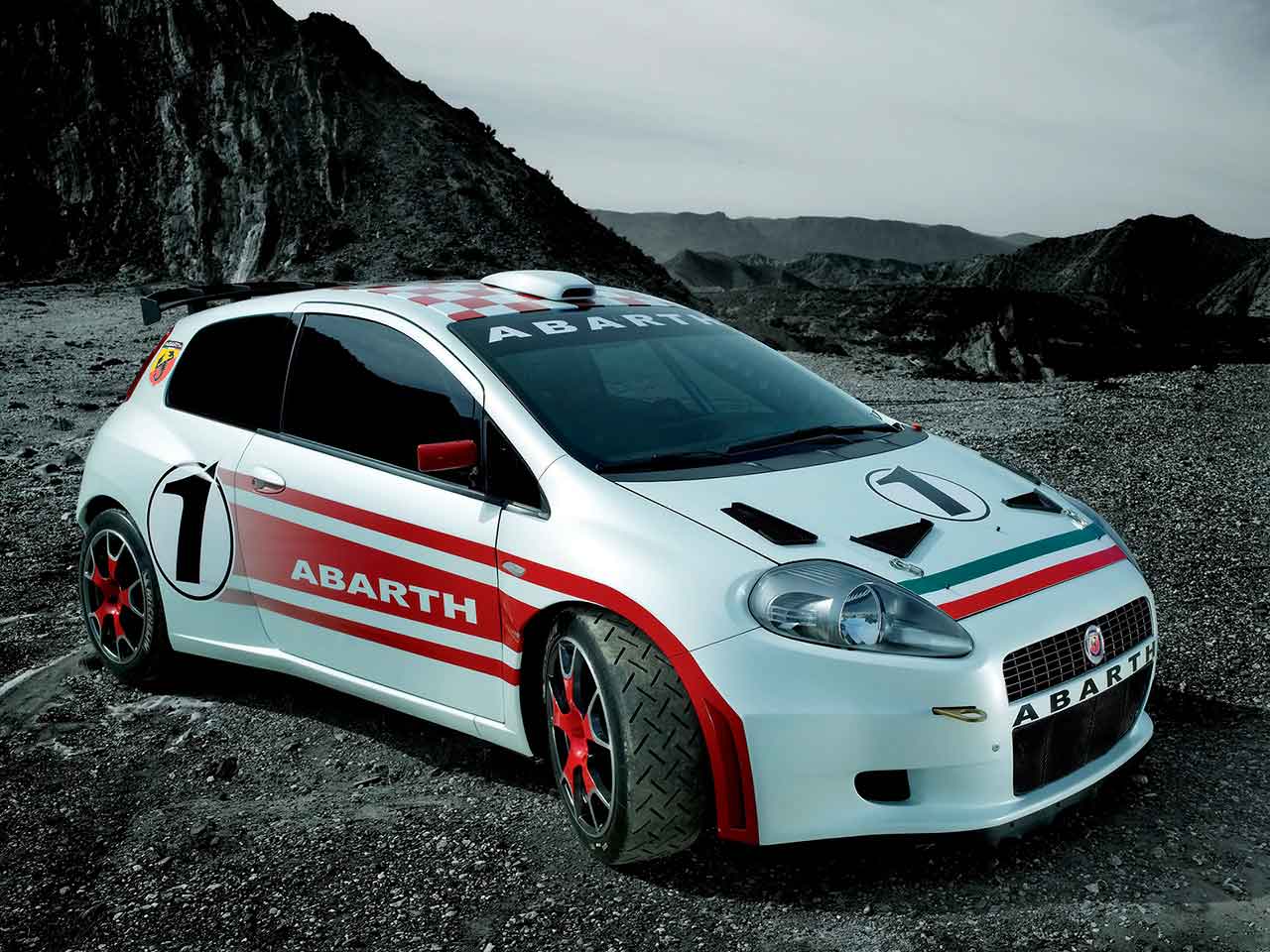 The public was able to admire the extraordinary Abarth Grande Punto S2000 at the 2007 Geneva Motor Show. It was a racing car designed for rally competitions, in which Fiat Racing's racing department participated in the 2007 Italian Rally Championship with Giandomenico Basso and his navigator Mitia Dotta. Davide Gatti, winner of the 2006 Fiat Abarth International Trophy, competed behind the wheel of an official Fiat Grande Punto R3D with diesel engine. On the international scene, the Grande Punto Abarth S2000 competed in the IRC (Intercontinental Rally Challenge) with the pilots Andrea Navarra, its navigator Guido D'Amore, and the young Umberto Scandola and Anton Alen.
The Abarth & C. Spa racing team was led by Claudio Berro.
The Abarth Grande Punto S2000 was powered by an aspirated 2000 cc 270 HP 4-wheel drive engine, heir to the version that won the 2006 Italian Rally Championship title with Paolo Andreucci and Anna Andreussi, winning 7 of the 11 races in the programme. Nor should we forget the excellent season of his colleagues Andrea Navarra and Guido Guido D'Amore, who obtained third place. Giandomenico Basso and Mitia Dotta won the European title and the International Rally Challenge.
Since its debut, the competition version proved to be unbeatable, whatever the type of course or terrain. And we must stress that the 15 cars built were commissioned by several teams in Europe and elsewhere, to compete in national and international rallies. Thanks to this technological and competitive superiority, the Grande Punto Abarth S2000 was able to compete with great determination and firmness in both championships.
(Fiat Press Release)
Translated with www.DeepL.com/Translator
POWER - CONTROL - PERFOMANCE

-
- 1.997 cc - 4WD with mechanical differentials center, rear and front
- Garrett IHI RHF3-P10.5 Turbocharger
- 201.3 kw / 270 HP at 8250 rpm
- 109.65 HP per litre
-
-
- Sequential 6 gears
-
-
- 2007
-
- Discs with 4-piston calipers x 355 mm / x 14.0 in front and x 300 mm / x 11.8 in rear.
-
- Goodrich asphalt wheels - Front: F 45.7 x 20.3 cm / 18 x 8 in - Rear: F 45.7 x 20.3 cm / 18 x 8 in
- Electric energy
-