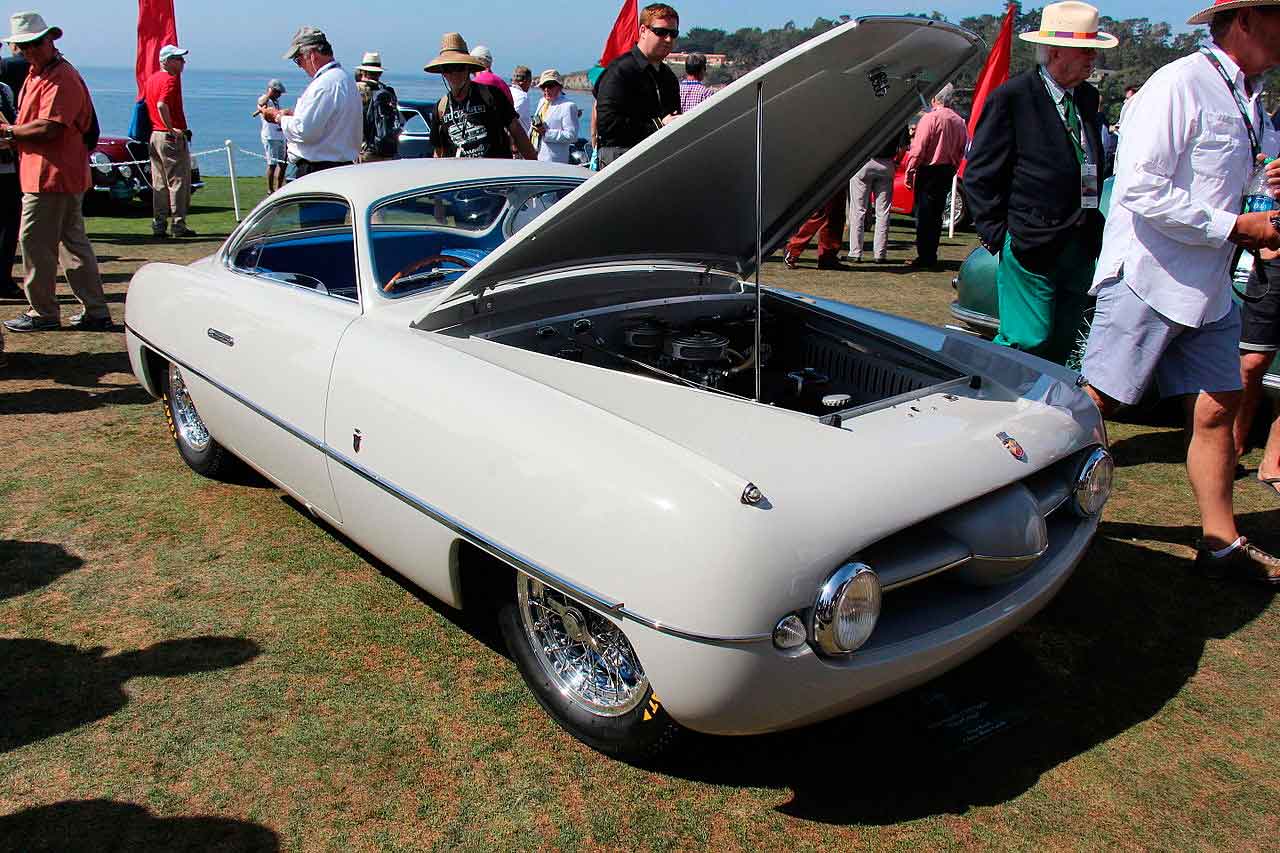 This exclusive coupé, designed by Giovanni Michelotti, was presented at the 1953 Turin Motor Show under the name Abarth 1100 Sport Ghia Coupe.
Its body evokes the style of American cars, and the Italian press refers to this as a masterpiece. When it was presented, it attracted a lot of attention, with a clear air to a fighter plane, and was even bought by Bill Vaughn, who was famous for creating some sports cars with fiberglass in the 50s.
The following year, Vaughn took this car to the New York Auto Show, calling it "Vaughn SS Wildcat," and claimed he had put a V8 camshaft in it. But, there's no evidence that this car had that engine, so maybe Vaughn was just faking it.
After spending a few years in Vaughn's hands, the car found its home in Peter Sherman's garage in 1978. Unfortunately, Sherman died in a plane crash that year, and the car remained unowned for the next 4 years. In 1982, it was purchased by Russ Baer and Pat Braden in a real estate sale. After that, nothing was heard of this peculiar model until 2010 when it was purchased by an anonymous restaurateur. At this point, it was nothing more than a simple skeleton, losing many pieces. Fortunately, there are so many photos of his presentation in Turin, that the owner surprised 5 years later in Pebble Beach, winning the Elegance Contest. They return it to its original color, as well as the upholstery in blue leather. The original four-cylinder engine is also installed.
It was 2015 and this was the first time the car was seen in public after the 1954 New York Show. The new owner took care of it for a while, but then sold it at auction for $891,000. Hopefully, whoever has it now will show it more in public.
Image:
– Sicnag [CC BY 2.0], via Wikimedia Commons
– Angus McKenzie ©2017 Courtesy of RM Sotheby's
POWER - CONTROL - PERFOMANCE

- 2017 RM Sotheby's Monterey ($ 891,000)
- Fiat / Abarth Type 204, front, longitudinally mounted - 1.089 cc - 2 valves / cylinder - 2 Weber 32 DRSP carburettors
- Naturally Aspirated
- 64 HP / 48 kW @ 5,500 rpm
-
-
-
- 4-speed manual - Rear-wheel drive
-
-
- 1953
- 2,215 mm / 1,258 mm / 1,248 mm
- Drum brakes
-
-
-
- Front: Upper and lower rear arms torsion transverse arms, hydraulic dampers - Rear: Live axle, semi-eliptical leaf springs, hydraulic dampers