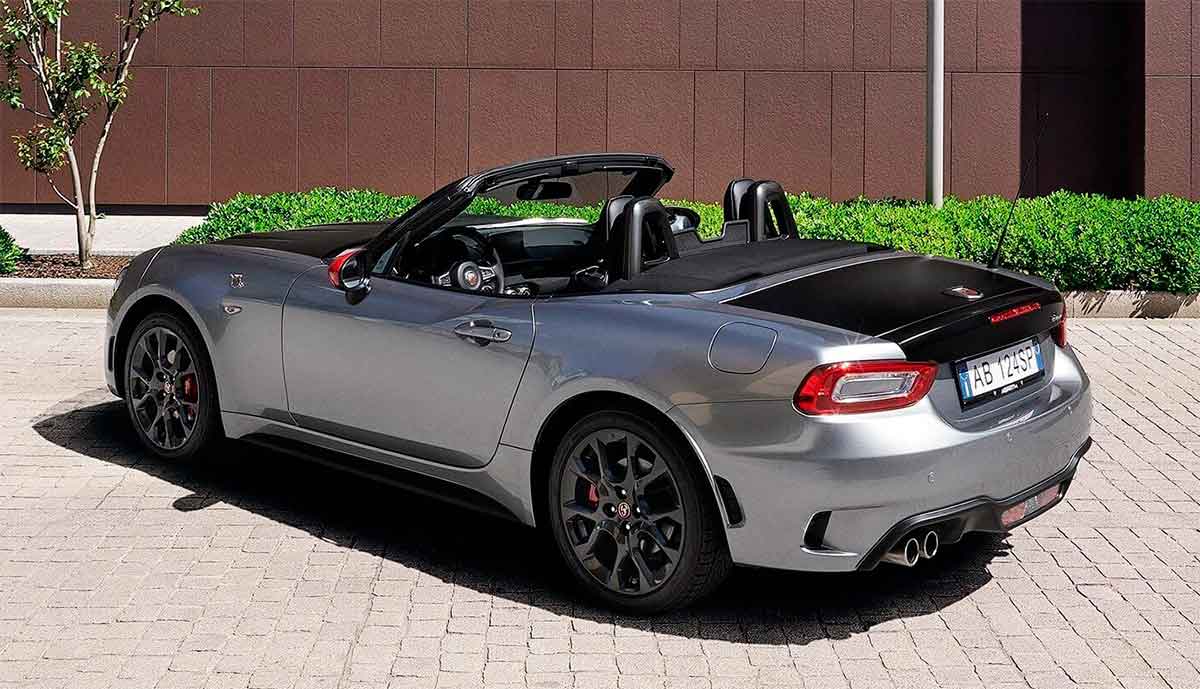 In 1972, the Officine Abarth created the first Abarth 124. It has now given birth to the 124 Spider Abarth Turismo, an authentic roadster with all the character of the Scorpion.
Abarth 124 spider Turismo is a roadster with a sporting behaviour unique in its category. The good work of the Officine Abarth, the careful design down to the smallest detail and the highest level of customization, form the character of an ambitious and fun car.
In the mechanical section available next to the already classic 1.4 litre MultiAir Turbo petrol engine of 170 hp and 250 Nm of torque at 2,500 rpm.
Thanks to its Bilstein shock absorber suspension, this Abarth 124 spider offers a perfect grip on the road, greater stability and maximum confidence, especially when cornering.
Abarth's drive mode selector allows you to adapt performance by varying engine settings (with overfeed), throttle, steering, electronic controls and, with automatic transmission, transmission ratio management. In addition, the direct and short gearshift lever ensures fast and precise shifting.
The powerful braking system with fixed aluminium front calipers with 4 pistons. This system, developed thanks to our racing experience together with Brembo, guarantees a very short braking distance, with a sensitive and sporty pedal, even after prolonged use.
The Record Monza double exhaust with two peaks, the flow of exhaust gases varies according to the speed of the engine. Its low back pressure ensures better power delivery at any speed. The four exhaust tails transmit an even more dynamic and sporty style.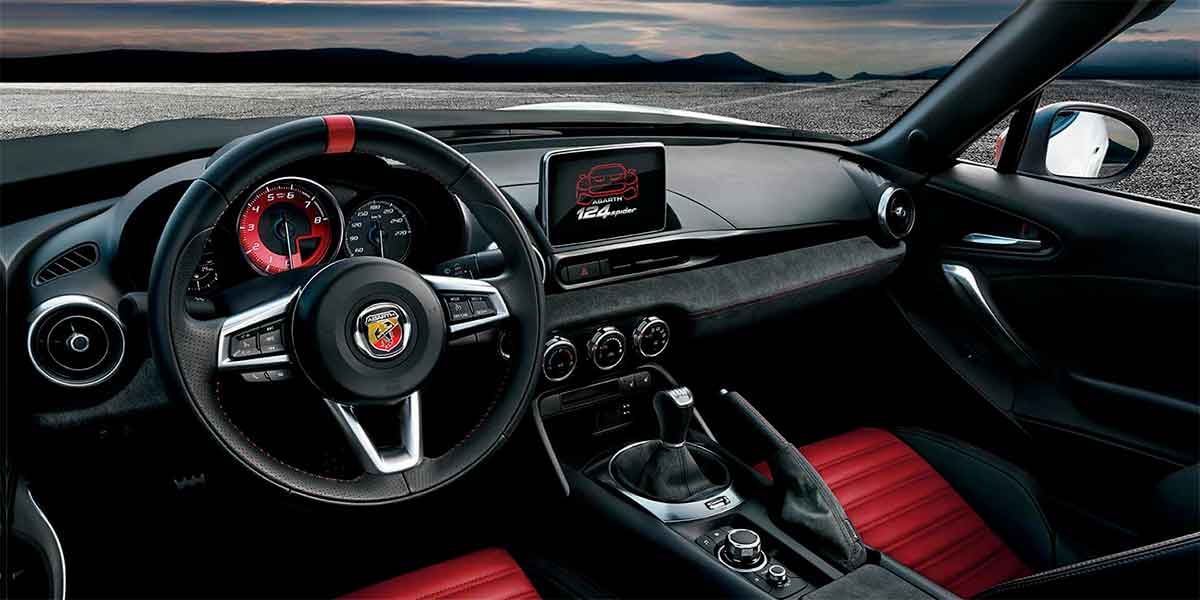 The double aspect of the spirit of the Abarth 124 Spider Turismo is also evident in the passenger compartment of the car. The elegance and sophistication of the interiors denote a roadster character that knows how to provide true driving pleasure. Competition-inspired details underline its sporty character.
To highlight its sporty attitude, it is possible to cover the dashboard with Alcantara®, making the cab ideal for fast and sporty driving.
Metallic grey DAM and mirror housings result in a more sober and elegant look. In addition, you can customize your car with a black or red anti-glare hood package (DAM and rear-view mirrors).
Source: https://www.abarthcars.co.uk/
POWER - CONTROL - PERFOMANCE

- 40,000 euros (2019 in Spain)
- 1.4 MultiAir Turbo 170 hp, 4 cylinders, 4 valves per cylinder
- Large Garrett Turbo Compressor
- 170 (125kW) @ 5500 rpm
- 124 hp/litre
- 6,8 sg.
- 1.060 Kg.
- 6-speed manual transmission 6-speed automatic transmission with gearshift lever (normal and sport dual mode).
- 6.2 Kg/HP
- 144 mph
- 2019
- 4.054 mm x 1.233 mm x 1.740 mm
- Front brakes: Brembo system with aluminium grippers and a self-ventilated disc Ø 280x22 mm Rear: floating gripper with disc Ø 280x9.5 mm
-
- 43 cm alloy wheels Corsa with tyres 205/45 R17 W84
-
- Front suspension: dual-spring with stabilizer bar Rear suspension: Multilink 5-arm suspension with stabilizer bar - Bilstein brand Abarth shock absorbers and springs