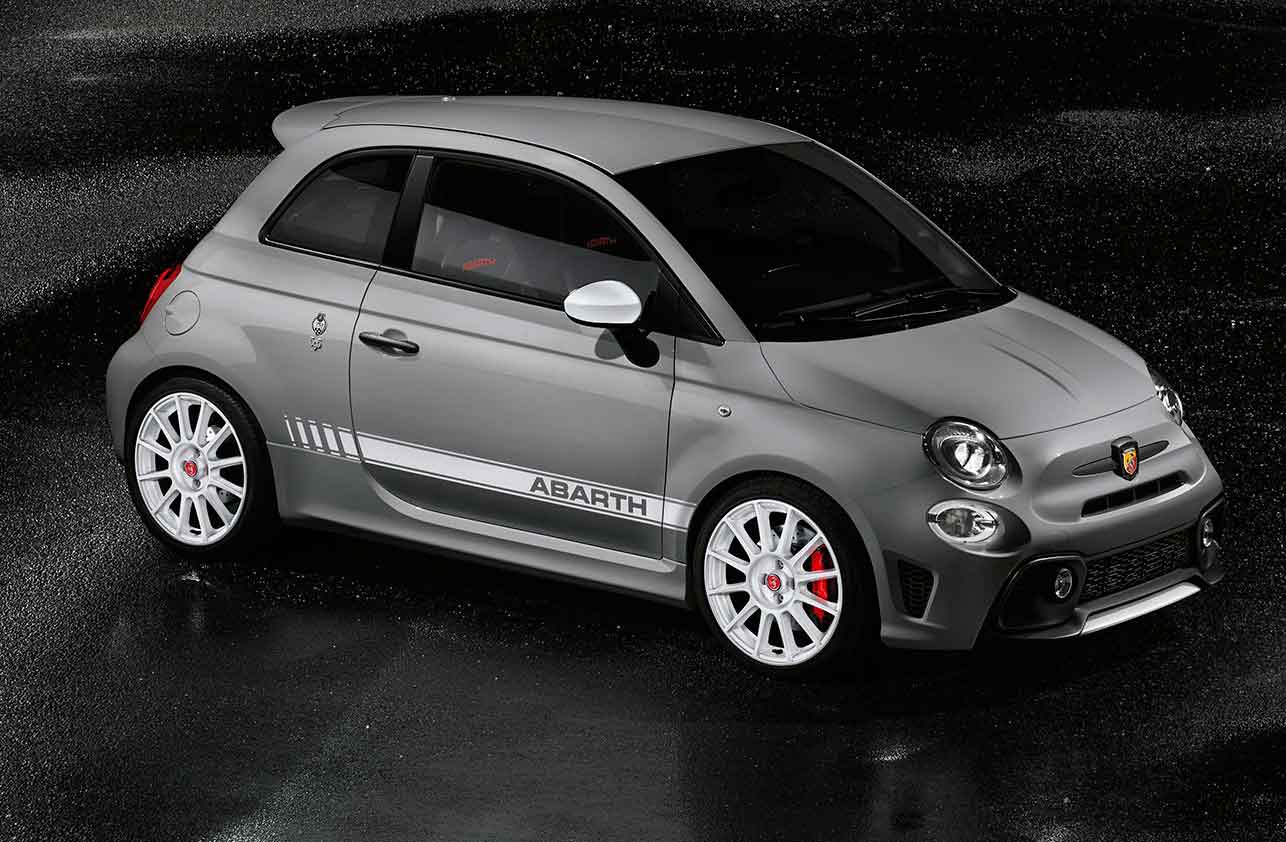 With the unmistakable sound of the exhaust Akrapovič, with its carbon filter silencers and inimitable sound, available for the first time in a 595.
Carbon pedals with Abarth logo in black and silver.
Side stickers, white mirrors and front and rear DAM indicators.
17″ Super Sport white wheels as standard.
Exceptional power-to-weight ratio of 5.9 kg/hp, specific power of 132 bhp per litre and acceleration from 0 to 60 mph in 6.7 seconds. Thanks to the 1.4 T-Jet 180 bhp engine with Garret turbo and Akrapovič exhaust.
The oversized Garret GT 1446 turbocharger with fixed geometry limits leakage from the fuel system walls to ensure optimum results at all times.
More grip on the road. Maximum safety in all conditions. All this thanks to FSD technology (Frequency Selective Damping), and Koni front and rear suspensions.
The new 595 Esseesse is also available in a convertible version with automatic fabric hood.
The new Sabelt 70 Racing Carbon seats available as standard are perfect for sporty driving. The high lateral support allows you to feel every support to give more authenticity to the driving experience.
Source: https://www.abarth.com/
POWER - CONTROL - PERFOMANCE

-
- T-JET, 1368 cm³, 4 cylinders in line, 4 valves per cylinder
- Garrett GT 1446 - 250 Nm at 3000 g/m
- 180 hp (132 kW) @ 5500 g/m
-
- 6.7 sec. (manual gearbox) - 6.9 sec (robotised sequential gearbox)
-
- 5-speed manual gearbox / 5-speed robotised sequential gearbox
- 5.8 kg/hp
- 140 mph
- 2019
-
- Front: Perforated self-ventilating discs, Ø 305 x 28, Brembo aluminium brake callipers. Rear Perforated discs, Ø 240 x 11
-
- 17" alloy wheels with 205/40" tyre
- 250A/50 Ah battery
- Front: McPherson with stabiliser bar Rear: Torsion axle with anti-roll bar - SHOCK ABSORBERS: Front: KONI FSD (Frequency Selective Damping) Rear: KONI FSD (Frequency Selective Damping)